Books
On this page we hope to point you in the direction of some stimulating reading! The cuckold genre seems to be going from strength to strength and we will bring you reviews of those we have read.
Please note purchasing links are provided as a courtesy and are not affiliated. If you have a book you would like reviewed we would be happy to do so!
"Male Chastity - The "Key" To A Successful Female Led Relationship"
Genre: Non-fiction, female perspective
Price: $3.22/£2.62
Available from: Amazon.com Amazon.co.uk and others
Review by: Danielle
This is a very interesting and thought provoking book by Mistress Benay, an experienced dominatrix from Colorado, who has been an ardent believer in female domination for many years.
Though not specifically aimed at cuckolding couples it will obviously be of interest to those in the lifestyle considering male chastity. Basically she advocates a wife locking up her man's penis thereby denying him the ability to orgasm. This will lead to him being more focused on her and attentive to her needs both in and out of bed.
She makes a very compelling case and her observation that men tend to masturbate when their wives are unavailable for intercourse is, I am told, absolutely true. I can fully follow her argument that when his wife provides his only means to an orgasm a husband will be much more respectful and obedient. There is also some very interesting discussion on the differences between male and female sexual psychology which is well worth reading.
I have to say that I was disappointed not to find any specific mention of cuckolding, surely the pinnacle of male chastity and the ultimate denial, the caged cuckold watching his wife have intercourse with her lover. I believe most cuckold husbands wear their cages with pride, often it's the only adornment they are allowed when the wife meets with her lover and it's like a badge of office graphically showing their status.
If you have ever considered experimenting with male chastity you should read this book for a greater understanding of the psychology involved. The author has also included some useful reviews of some of the devices available. I have occasionally caged my husband for short periods, at his request, and enjoyed having him under restraint but after reading this book I feel I would like to take it much further!
"What Lisa Did"
Genre: Fiction, female perspective
Price: Currently free
Available from: Amazon.com Amazon.co.uk Smashwords and others
Review by: Danielle
Lisa's husband, Rob, arranges a surprise experience for her 35th birthday. He gives her an envelope with mysterious instructions then jets off on a business trip. With some apprehension she follows the instructions and presents herself at a luxury hotel where she is shown to the penthouse suite.
She finds a bottle of champagne, a box of sexy lingerie, a video camera and a note from her husband telling her that she will "fulfil the fantasies" they have talked about. She puts on the lingerie and high heels. Then a mysterious stranger arrives, what should she do? It is her birthday, after all...
You have probably guessed what happens next, her husband has arranged his cuckolding and of course Lisa enthusiastically obliges. This is the first instalment of a trilogy with "What Lisa Did Next" and "What Lisa Did Last" following on. You can buy the complete trilogy as a bundle if you enjoy Lisa's first adventure, which I'm sure you will.
Lisa and Rob are an affluent up-market couple and Rob's journey into cuckoldom, written from the female perspective, is a very enjoyable and entertaining tale, even if it doesn't always quite ring true. Just let it sweep you along, for those husbands living in hope it may just convince your beloved to take the plunge!
"From Housewife to Cuckoldress"
"How I Took Sexual Control of a Marriage in Crisis"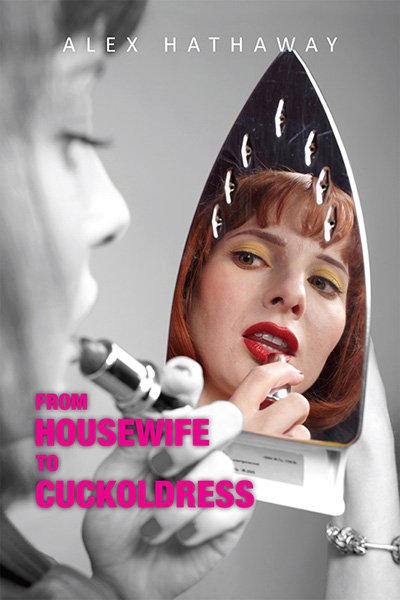 Genre: Fiction, female perspective
Price: $4.29/£3.49
Available from: Amazon.com Amazon.co.uk Smashwords and others
Review by: Danielle
Linda and Dan have a seemingly happy marriage, he loves her and apparently she has feelings for him. During a naked hot tub romp she has sex with her best friend's very well-endowed lover, witnessed by both her husband and the best friend. She develops an obsession with very large male organs and decides her husbands small penis is not enough to satisfy her. Urged on by her best friend she humiliates her husband and nearly wrecks her marriage before reaching an accommodation with her poor husband.
This could have been such a great story but all the characters are so under described. We gain no insight into Dan's feelings as he suffers greater and greater humiliation from his cock-obsessed wife. At one point Dan leaves Linda only to return without any real explanation. By the end of the book we know little more about him than at the start but he is now totally subdued by his wife. We gain no insight into how this happened or why he is so captivated by such a selfish woman.
The hot tub scene at the beginning is quite hot but Linda's next two lovers might as well be robots, we learn nothing about them or how they feel to be fucking a woman they hardly know in front of her frantically masturbating husband. The description of their sex is fairly mechanical and not particularly arousing.
The cuckold role is so important that, even in a story told by the wife, we need to know much more about him and his emotions and feelings. Sorry, had high expectations for this book but though it was a reasonably enjoyable read it was ultimately unsatisfying.